The Medium/Riders to the Sea,
an indie theatre first
The eclectic Snowglobe Theatre presents two short operas
By Byron Toben
Snowglobe Theatre, a newish addition to Montréal's small independent theatre companies, is nothing if not eclectic.
Its first show, Shakespeare's Much Ado About Nothing was a likeable show in January 2017, perhaps overshadowed by that summer's more established and financed Repercussion Shakespeare in the Park of the same play.
Its second show in December of His Girl Friday was a peppy adaptation of the classic movie, which had itself been an adaptation of the famous stage play The Front Page.
Both of those were staged at the Mainline Theatre.
For its third essay, it moved to the much larger setting of Concordia's Loyola Chapel, where I have reviewed many Holiday season concerts by the Montreal Lyric Singers.
The presentation was two short operas.
This is the first time, I believe that a Montreal indie theatre company has attempted operas, although there have been lots of Gilbert and Sullivan operettas.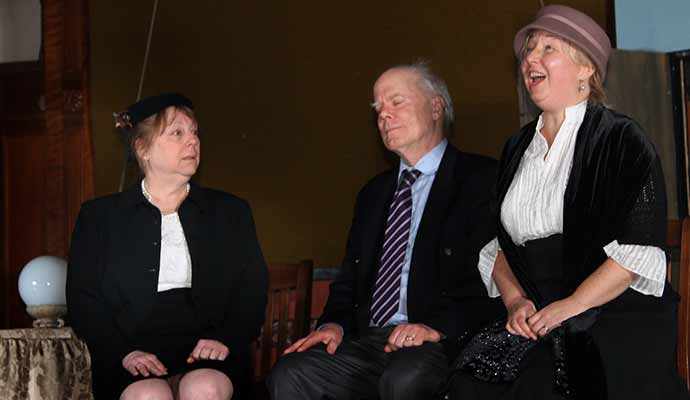 The Medium
Houdini (born Erich Weiss) would have loved this piece by Gian Carlo Menotti.
Escape artist Houdini, who believed medium séances to be shams, promised to come back from the dead if it was at all possible. This created a feud with Arthur Conan Doyle (author of Sherlock Holmes) who was a fervent believer in spiritualism and séances. They are both now dead and so far, neither heard from.
The main character in The Medium is a bogus medium, one Madame Baba (mezzo soprano Johanne Patry). Tough minded Baba is far from the bike riding, humourous clairvoyant Madame Arcadi in Noel Coward's Blythe Spirit.
She dominates Toby (Feng Xiong), a mute servant rescued from the streets, who has fallen in love with Baba's youthful aide, Monica (Sandra D'Angelo).
At Baba's sessions, the hidden Toby pumps the séance table to rise and Monica is available to appear as the manifestation of a deceased young girl.However, at one session where regular weekly customers Mr and Mrs Gobineau (Lars Lih and Elizabeth Nivet) attend along with a newbie, Mrs Nolan (Lise Charbonneau), Baba, after years of faking being possessed, becomes convulsed with an unexplained shivering and visitation.
She somehow blames Toby for this and beats him.
When the clients return the next week, she confesses her deception and tries to return their money. They refuse to believe her and leave. She expels Toby and things evolve into a tragic ending.
All this is accompanied by music director Giancarlo Scalia on piano.
… both (operas) deal with how the central characters face loss caused by forces beyond their control, whether by lashing out or by submission.
Peter Giser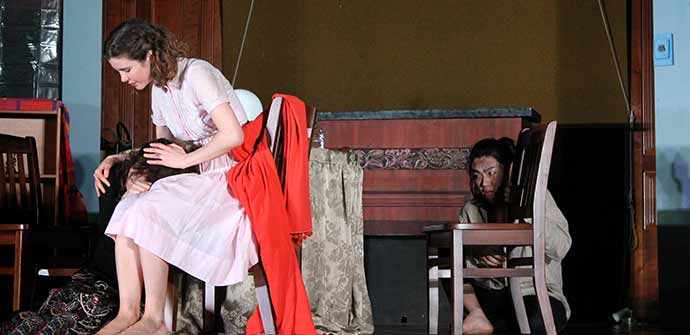 Riders to the Sea
The companion piece is a 1937 opera adaptation by Ralph Vaughn Williams of John Millington Synge's 1904 play. Far from the ironic humour of his Playboy of the Western World, it is a sombre tale of the dangers of the sea to coastal folk, here the villagers of the Aran Islands.
Mr Scalia's fine piano accompaniment is supplemented by flute (Pierre Mendola) and bassoon (Phillipe Rene Carvajal Pirlet).
Here, the mother, Mauyra (Johanne Patry) has lost several of her sons to the rugged waves. The last surviving one, Bartley (John Carr Cook) is determined to go out on a rough night, despite the protestations of his mother.
Her daughters, Cathleen and Nora (Tiffany Matraxia, Jordanne Erichsen) are caught in the middle. Sure enough Bartley too perishes and actor Cook impresses by not flinching a muscle as the corpse for an extended period as six neighbours come to mourn. Lots of making of the cross, but alas, no Irish wake with jigs, reels and toasts.
From Homer's Odyssey to Eugene O'Neil's Anna Christie, that "old devil sea" creates grief and drama.
The two together
As director/co-producer Peter Giser explains, both deal with how the central characters face loss caused by forces beyond their control, whether by lashing out or by submission.
Both also deal with the juxtaposition of older pagan beliefs and the possible intercession of a Christian God.
Riders to the Sea/The Medium played at Loyola Chapel on April 19 to 21.
Snowglobe Theatre reappears July 5 to 8 at the Mainline with No Exit by Jean-Paul Sartre.
Images: courtesy of Snowglobe Theatre

Read also: My second time Around the World in 80 Days
---
Byron Toben is the immediate past-president of the Montreal Press Club.
---
---