The Last Five Years of a marriage in song
Musical play works well in one night concert version
By Byron Toben
The Last Five Years – In Concert is the latest outstanding musical brought here by Noelle Hannibal and her In The Wings Productions for a one nighter recently.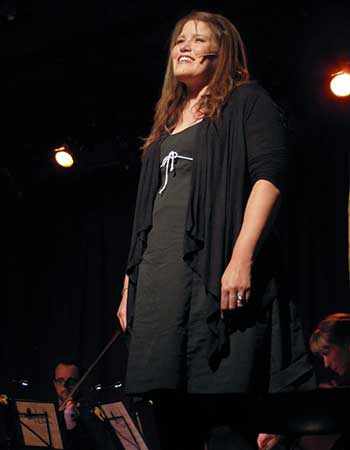 Ms. Hannibal, a local lady with extensive singing and acting (Star Trek) experience in the USA, had earlier treated us to a one night concert version of Chess, a two night enhanced concert version of The Who's Tommy and a three night full scale dazzler of Hair.
This modest piece (only two characters), written by Jason Robert Brown, originated in the Chicago area and has been replicated in New York, Paris and Belfast before being adapted for film.
The plot deals with a romance between a budding Jewish writer, Jamie (Anton May) and a struggling Shiksa actress from Ohio, Cathy (Ms. Hannibal).
This pairing reminded me of Woody Allen and Diane Keaton in his great film, Annie Hall.
What is unique in this piece is that Cathy sings about the last five years of their marriage going back in time while Jamie sings about first romancing, then going forward in time. Each delivers six solos and the twain meet in three duets.
The songs include, by her, Still Hurting, A Summer in Ohio and I Can Do Better Than That and, by him, Shiksa Goddess, If I Didn't Believe in You and Nobody Needs To Know.
Both have powerful voices. Her soprano blends well with his tenor-baritone as they combine in A Miracle Would Happen / When You Come Home To Me and the finale of Goodbye Until Tomorrow / I Could Never Rescue You.
Both have powerful voices. Her soprano blends well with his tenor-baritone…
They were aided by a topnotch musical quartet with the rare combination of piano (Ian Baird), violin (Scott Chancey) and two cellos (Andrea Stewart and Thomas Beard).
Director/choreographer Nadia Verrucci had to be creative with a cast that sat at opposite ends of the stage, only rising to stand and sing. I got a kick out of the stage bit, halfway through, where they circled each other in a non touching romantic movement before reversing their seats.
An enjoyable evening, but I kept thinking that the song from Leonard Bernstein's 1956 classic Wonderful Town, Why-O-Why-O–Why-O Did I Ever Leave Ohio applied to Cathy here as well as sister Eileen there.
The Last Five Years ended at La Sala Rosa on April 28.
Watch for In The Wings remounting of Hair at the Mainline Theatre for a longer run August 30 to September 9, 2017.
Images: Nadia Verrucci
Read also Million Dollar Quartet
---
Byron Toben is the immediate past-president of the Montreal Press Club
---
---