The Miracle Worker
inspires even today
Lakeshore Players Dorval presents the miraculous story of Helen Keller
By Byron Toben
Back in the 1880s, way down yonder in Alabama, a 19-month-old child, Helen, was stricken with a disease that left her blind and deaf. After seven years of trying to have her cured, her parents, Confederate Army vet Captain Keller and wife Kate reluctantly hired a 20-year-old Irish girl from a Boston school for the blind to try to educate Helen.
That girl, herself of limited vision, was Annie Sullivan, who succeeded in her difficult task and Helen went on to become a major world figure until her death at age 88 in 1968.
Mark Twain became a friend of the two women and commented that, "Helen is a miracle and Miss Sullivan is the miracle worker".
That quote inspired playwright William Gibson to pen this play, which went on to win four Tony awards in 1960 and the film version, two Oscars in 1962.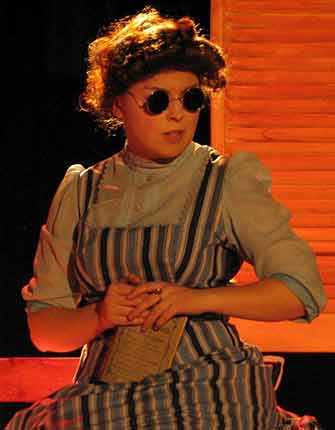 The Lakeshore Players Dorval has presented a fine version of this play smoothly directed by experienced (35 plays) Donna Byrne who had herself acted in it years ago at McGill's Players' Theatre.
A real find here is the 11-year-old Melia Cressaty who plays the young Helen with believable handicaps but hidden spirit.
Her real life mom Jennifer Martin, a Becket Players alumna, here portrays her stage mom, Kate.
Dawson theatre grad Stephanie von Roretz is also impressive in the key role of Annie.
Long time Lakeshore Players stalwart John Elliott is properly crusty as Helen's father.
Andrew McLennan plays half brother James who is increasingly fed up with his half-sister.
A real find here is the 11-year-old Melia Cressaty who plays the young Helen with believable handicaps but hidden spirit.
Rounding out the Keller family is Aunt Ev, community theatre vet Sandy Ferguson.
Max Pelletier Burroni appears briefly as Mr Anagnos, the head of the School for the blind who recommends Annie for the job. His real life daughter, Giulia Pelletier, also appears onstage as one of six blind girls, fellow students of Annie in Boston.
Long time QDF (Quebec Drama Federation) supporter Len Richman makes an even briefer appearance as a doctor who attends to the infant Helen. These eight, along with Keller family maid/cook Viney (Carolyn Hum) prove again that there is no such thing as a small role.
All in all, a modern classic play on an important theme combining artistry with some humorous touches.
A note to prevent name confusion. Writer William Gibson is not to be confused with Vancouver writer William Gibson of sci-fi Steampunk fame. Director Donna Byrne is not to be confused with the Montreal Times columnist.
Watch for Lakeshore Players Dorval's next two productions:
February 3 to 16
The Odd Couple (a female version of the Neil Simon comedy)
May 9 to 16
Opening Night (the Norm Foster comedy)
The Miracle Worker continues at the Lakeside Academy, 5050 Sherbrooke, Lachine, until November 17.
514 631-8718
lakeshoreplayersdorval.com
Images: Eric Sauvé
Read also: Stephen Orlov's powerful examination of radicalization
---
Byron Toben is the immediate past-president of the Montreal Press Club.
---
---