Home Sweet Home
(with nuclear fallout)
Lucy Kirkwood's The Children deals with the nuclear waste menace
By Byron Toben
In August of 2016, I attended the nomadic World Social Forum (counterpart to corporate World Economic Forum always in Davos), being held for the first time in Montreal.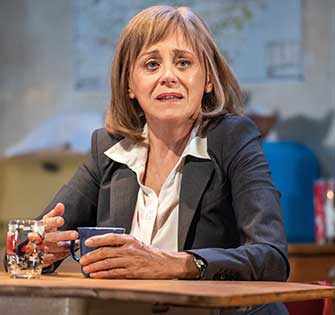 At that huge event covering all kinds of generally good causes, I focused on the environmental panels dealing with the dangers of nuclear proliferation, waste, and disposal. Read my review of it, Focus on Nuclear at World Social Forum.
As the Canadian Coalition for Nuclear Responsibility has just finished a week in Ottawa protesting the dangers of hundreds of small nuclear reactors replacing the dozens of aging large nuclear reactors that are being phased out, this hit play The Children is very timely.
Playwright Lucy Kirkwood at only 34 has become a sort of an enfant terrible in Britain, writing nine plays and winning an assortment of awards.
Kudos to Centaur artistic director Eda Holmes for selecting this play fresh from its New York presentation.
Like Caryl Churchill, she delves into major problems without making it a rant, but dealing with issues as people gradually confront them.
Kudos to Centaur artistic director Eda Holmes for selecting this play fresh from its New York presentation. I'm inspired to read other scripts of Ms Kirkwood.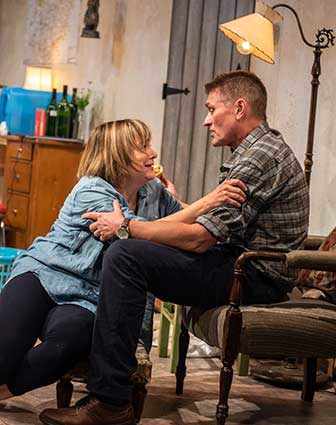 In this one, a trio of Brits became involved in nuclear studies some 40 years ago. Two, now married to each other, reside in a seaside cottage next to an aging plant leaking radiation. They are practical Hazel (Laurie Paton) and husband Robin (George Johnson). Somehow, they have found time to raise four children. The third of the trio, Rose (Fiona Reid), a nuclear physicist, had emigrated to the USA and built her career there.
Now Rose, who never married nor had children of her own, returns to their coast.
Rose's long ago love affair with Robin slowly ignites old enmities against a background of Geiger counters, old songs, protective garb, lots of wine, yoga and spirited dancing as 67- year-old Rose reveals her plan to 65-year-old Hazel.
Ms Holmes directed this one herself with good pacing so the 90 minutes with no intermission went by well.
Both Mr Johnson and Ms Paton hit their characters' nail on the head.
And what can we say about the universally praised Ms. Reid? Five seasons with Stratford and 13 with Shaw is quite a record. Be sure to read Barbara Ford's interview with her printed in the program.
A wonderful addition to the Centaur's 50th season.
The Children continues at the Centaur until November 25.
514-288-3161
centaurtheatre.com
Images: Dahlia Katz
Read also: The Miracle Worker inspires even today
---
Byron Toben is the immediate past-president of the Montreal Press Club.
---
---