The Shape Of Things'
Misanthropic Outlook
Not A Real Theatre chooses a biting Neil Labute script
By Byron Toben
On the heels of a play by Shakespeare, presented by the new Theatre Sans Argent, comes a play by Labute presented by the new Not A Real Theatre Company.
In the wake of having recently seen both, I hope the former (Troilus and Cressida) finds some money and the latter (The Shape of Things) finds recognition as indeed, a welcome addition to our small but mighty constellation of gutsy English productions.
Not A Real's first show chooses a biting Neil Labute script. Mr. Labute, a former Mormon, has become, in his many scripts and films, a true misanthrope for our age, surpassing Alceste in Moliere's play of that name. In this play (since made into a film), all four characters are students at a small mid western university.
Adam (David Hudon, a John Abbot grad who has performed at the Edinburgh Fringe) is a nerdy English major who works part time at a museum, where he meets Evelyn (Julia Borsellino, a Dawson grad impressive in Yukonstyle) who is an arts major.
Scott Humphrey plays Adam's more macho friend, Phillip, affianced to Jenny (Kayleigh Choniere, another Dawson grad).
Like all of Labute's plays, pretence masks back stabbing, betrayal and hypocrisy.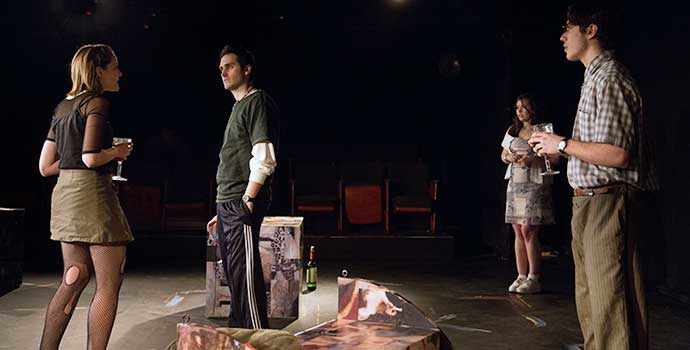 Adam and Evelyn become an unlikely couple, but Evelyn takes a dislike to Phillip. Arguments lead to Phillip and Jenny breaking up and Adam disavowing them at Evelyn's request. In the mean time, he undergoes a wardrobe change, exercise and even plastic surgery to please her. All this culminates in a surprise ending at the presentation of her master's thesis.
Ms. Borsellino also produced this show. She was wise to choose Sara Rodriguez to direct it. Ms. Rodriguez lent some nice pacing and an inventive use of boxes during quick scene changes, abetted by timely musical curlicues selected by Paul Van Dyck.
Like all of Labute's plays, pretence masks back stabbing, betrayal and hypocrisy. Makes dramatic stage stuff, but a sour outlook, which hopefully does not dominate his personal everyday life.
A recent famous comic strip echos a theme from this play.
The Shape Of Things closed its 5-day run at the Mainline Theatre on April 2.
Images: Adam LeBlanc

---
Byron Toben is the immediate past-president of the Montreal Press Club.
---
---