Wow I Made It…
What an experience with Chantiers jeunesse!
Wishing to make friends from around the world? Want to travel in an unusual way, with a different purpose? Looking to live intercultural experiences while making a difference for others and yourself? Live it through an international voluntary workcamp with Chantiers jeunesse.
On March 25, Chantiers jeunesse had a stand at the City of Westmount Earth Hour 2017 event at Victoria Hall. For those who didn't make it that day, here is what Chantiers jeunesse has to offer. This Montreal-based not-for-profit organisation has been in partnership for more than 35 years with organisations from around the world. It is the Canadian member of the Alliance of European Voluntary Service Organisations. Chantiers jeunesse offers young adults (18-35 years old on average) opportunities to live an international experience with other volunteers from more than 35 countries.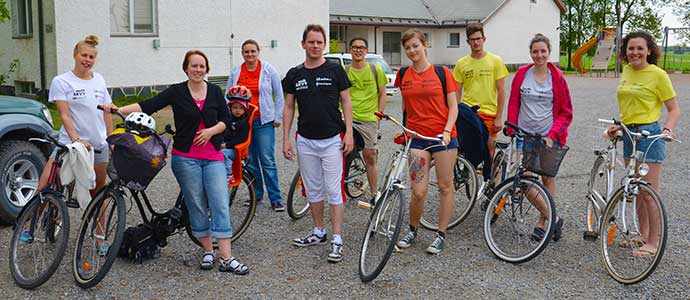 A workcamp or chantier is a voluntary work project carried out by a group of young adults recruited all around the world. The projects are organised by local communities and not-for-profit organisations in need of some help. Short-term workcamps (two to three weeks) are for many volunteers their first international travel with a community involvement experience. For others, it is the second or third. Some volunteers even register for two workcamps in different cities and countries as they travel for a longer period abroad, leaving some time off in between. With more experience, some get involved in mid-term (1 month) or long-term (three to six months) workcamps. As individuals register for the selected workcamps, it is easier for each one to make their own travel arrangements and not depend on a group for a specific flight and airline.
What is required to take part in a voluntary workcamp (chantier)? Good will, openness to others, ability to share accommodations, to adapt to different situations, and to give a hand to others. Basic knowledge of English is required to communicate with international volunteers. Pre-departure workshops are offered to meet former volunteers, get prepared and learn more about the experience to come.
Chantiers jeunesse offers young adults opportunities to live an international experience with other volunteers from more than 35 countries.
Over a year, there are more than 2000 short-term projects in Europe, Asia, and the Americas. Most of them take place during the summer. It is now time to sign up for this summer. Chantiers jeunesse's website links to the workcamps available, presented by date, country and thematic (e.g. environment, art, heritage, social, etc.). One can help preserve marine turtles in Mexico, work in a zoo in Estonia, photograph Iceland, take part in youth camps under the midnight sun in Scandinavia, participate in agricultural projects in Mongolia and in artistic activities in Japan and South Korea, etc. For the mid-term and long-term workcamps, it is necessary to contact Chantiers jeunesse for more information and to plan ahead. To enable Canadian volunteers to take part in international projects abroad, Chantiers jeunesse holds, in return, workcamps in small Quebec communities with international volunteers.
There will be a pre-departure workshop on Saturday, April 8. So don't miss it or contact Chantiers jeunesse for more information. Pass the word about Chantiers jeunesse and encourage participation in a voluntary international workcamp.
Chantiers jeunesse is a recognised charitable organisation. Donations help keep participation fees low for volunteers.
For more information: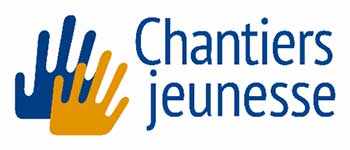 Read about Laetitia's great volunteer workcamp experience in Kauhajoki (Finland). She is a former member of 2nd Westmount Scout.
---
In 2014, I went to Kauhajoki (Finland) for my first international workcamp. I had heard about Chantiers jeunesse through friends who went to Iceland the previous years. I had three criteria: my own time frame because of my summer job, I wanted to visit Scandinavia and I was interested in thematics related to the environment, art and renovation. I had an open mind for the rest.
At 19, it was my first international travel on my own (no family, no school group, no friend). I had a meeting point at a specific date and time. Making my own travel arrangements, I decided to arrive in Finland a few days before the meeting date to visit Helsinki and scheduled two weeks after to travel to Sweden and Denmark. From Helsinki, I set off to Kauhajoki. I had to look it up on the map. It is a small village with a population of less than 14,000, located 290 km from Helsinki (nine hours by train and bus). It was where the Finnish coordinator expected the volunteers.
Up we go: the workcamp starts! Six volunteers from South Korea, France, Netherlands, Slovakia… and I am the only Canadian. Luckily, we all spoke English as a second or even a third language. Our facilities are located in the elementary school where we sleep, cook and plan our tasks.
'What is great with Chantiers jeunesse is the opportunity to get involved with the local communities, make international friends, and discover my own abilities.'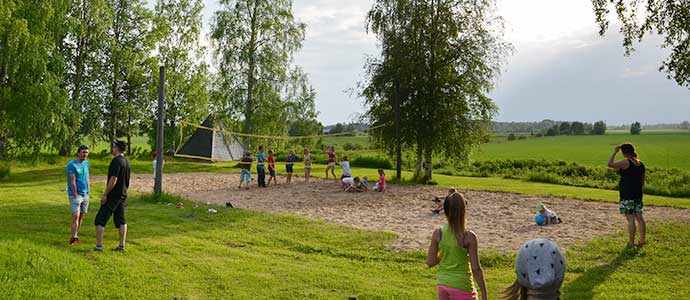 So there I was for two wonderful weeks. Quite hectic at some point – laughing, working, cooking, discussing, arguing, sharing accommodation, cycling back and forth to the workplace on small country roads and paths. We cooked our specialty with the local products. I prepared pancakes, served our national maple syrup, and also poutine. Work, well let us say pleasant work: painting and repairing elderly people's home, cleaning up a beach, planting trees, fixing a small park's equipment, and the best of all, organizing the village community event. The crowd came from surrounding villages and areas. The children had a ball. We were in the newspaper. At the end of the workcamp, to thank us, residents invited us for supper at their place and organized a visit of neighbouring villages.
When the workcamp was over, I was quite sad to leave my friends. We developed stronger bonds working together, and having fun. Social medias make it easy to keep in touch. I even met a few of my volunteer co-workers in Prague the following year and, this year, in Toronto.
What is great with Chantiers jeunesse is the opportunity to get involved with the local communities, make international friends, and discover my own abilities. My obligations: get to the meeting point on time and really get involved. I then realised that the pre-departure workshop with former volunteers had been very helpful as they offered quite valuable information on planning, financing tips, security, intercultural aspects, and the return journey. I felt well prepared and confident.
Wow, my first international workcamp, I made it and I surely want to plan another one!
Laetitia Dandavino-Tardif, Chantiers jeunesse volunteer and former member of 2nd Westmount Scout.
Images: Laetitia Dandavino-Tardif
---
---