Westmount places:
An heritage to discover
A remarkable city for walking and discovering Westmount's best-kept secrets
By Michael Walsh
Previously published on April 27, 2016
Westmount is quite a remarkable city for walking and discovering areas, houses, hidden parks and massive boulders – each of which has a story. Much of what we see today lining the city's streets and lanes hasn't changed in centuries – it's a comforting feeling walking in the same steps of those before us and being able to perceive their legacy. What follows is a continuation of our many walks, over a two-year period, and many of the stories we have discovered.
39 Somerville
Boarded-up door and windows, covered with bricks, on the side of the former 1920s Falle's grocery market.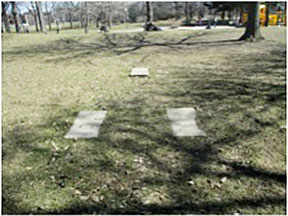 Westmount Park – Cannon Footprints
Footprints of one of two large artillery pieces – manufactured by I. H. King in England, in 1801, and believed to be used in the war of 1812-14. They were placed in the park, in 1899, by the Westmount Lodge Sons of England. Children used to love playing on these!
Former Reddy Memorial Hospital – Tupper Avenue
Sign, on a loading dock door, attesting to the former staff's deep attachment to the hospital before its closure. The hospital was one of nine area hospitals, closed in 1997, by the Quebec government as a cost-cutting measure. The building now houses the YMCA and the Batshaw Youth & Family Centres.
110 Abbott
George M. Webster residence (1897) – Webster Brothers & Parkes – manufacturers of wood mantels, mosaic floors and fireplace goods. Their offices were located at 694 Craig Street.
139 Abbott
H. S. Dunning residence (1897) – manager of the Windsor Hotel.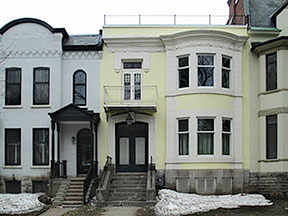 332 Wood
Henry Herdt residence (1920) – Supervisor of the Dominion Glass Company.
From Industry '67 Centennial Perspective, published by The Canadian Manufacturers' Association in May 1967: "In 1890 they changed the name of their company to Diamond Glass Co. (Ltd.), absorbed four glass companies located as far apart as Nova Scotia and Hamilton, Ont., and continued a vigorous program of expansion. The name was changed again in 1903, this time to Diamond Flint Glass Company, other companies were absorbed, and in 1906 a subsidiary, The Canadian Glass Company, was opened in Montreal and entirely equipped with automatic bottle-making machines. Still another factory was established in 1913 in Redcliff, Alberta, to take advantage of the plentiful supply of natural gas."
Much of what we see today lining the city's streets and lanes hasn't changed in centuries – it's a comforting feeling walking the same steps of those before us and being able to perceive their legacy.
"From the viewpoint of the historian, Dominion Glass Company Limited is one of the few active Canadian manufacturing establishments which may authoritatively claim to have provided a major contribution to the Canadian decorative arts. Indeed, any and all glass objects, including containers, which were produced in the preceding and extant glass factories during the period 1855-1925 have some claim to artistic beauty, rarity and/or social significance. The free-blown, non-commercial glass paperweights, whimsy bird forms and "drapes" which were produced to exhibit an individual command of the medium depict in three-dimensional form the ethnic and regional origins of specific glass blowers. The commercial containers (i.e., bottles and preserving jars) changed the Canadian housewife's concept of preserving foods and are presently acquired by discriminating collectors and exhibited in the Royal Ontario Museum."
66 Bruce
Philip Thos. Le Maistre, sea captain (1897).
261 Melville
Eben Dowie – construction engineer.
Eben Dowie & James Oxley were the first people to patent the use of chilli powder, in 1899, as an extermination ingredient. This substance is still used to this day.
From the USPO, Aug 22, 1899, Publication number US631738 A: "Be it known that we, EBEN DOWIE, consulting engineer, and JAMES MACDONALD OXLEY, insurance manager, of the city of Montreal, in the county of Hochelaga, in the Province of Quebec, Canada, have invented a certain new and useful Composition of Matter to be Used for Evicting Rats and other Vermin, of which the following is a specification.
Our composition consists of the following ingredients, combined in the proportions stated, viz: Chili pepper, twenty percent; hellebore, five percent; sulphate of lime, eight percent; phosphate of lime, eight percent; carbonate of lime, fifty-four percent; oxide of iron, five percent. This mixture is thoroughly mingled and makes a fine powder."
Westmount Park – Boulders
A boulder behind the clay tennis courts in Westmount Park. One wonders about its origin. More are located nearby beside the greenhouses as well as in the park's lagoon. The park, originally, had ravines that were used as landfill by the City of Montreal. Most notably, during the construction period for the downtown Ogilvy department store.
Former Westmount Train Station
Facing the C.P.R. tracks at the back of the closed Westmount train station.
426 Metcalfe
Stone detail on 426 Metcalfe Avenue.
Westmount Park Plan 1910
What could have been – and should have been.
In the process of researching various Westmount-related topics, a newspaper headline "Westmount Will Have One Of The Finest Laid Out Parks on the Continent" caught my attention.
The article that followed was in the Westmount News, on August 5, 1910. It provided details of a new Park Extension By-Law (221) that was passed by City Council. The City was taking a $300,000 loan to procure 5 additional acres for the purpose of extending the current park. A large portion of this land was from "Dame Margaret Smith et. al." and the Estate of William Smith. This comprised the area between Western Avenue (now Boulevard De Maisonneuve) and St. Catherine Street, the Glen Road, Lansdowne Avenue and bordering Elgin Avenue (now Melville Avenue). The City's landscape architect, R. A. Outhet, proposed two crescent driveways joining Western Avenue: one from Elgin Ave. and the other following the path of Glen Road.
In addition, a boulevard entrance to the park would connect from St. Catherine Street "giving a stately entrance to the park". Council stated that this would "increase the beautification of the city which so far has been laid out too much of straight lines".
The By-Law also provided power to Council to sell land fronting St. Catherine St. and Lansdowne Ave. to pay for the park extension.
On another note, the same 1910 edition of the Westmount News had the following item: "The council is now considering a proposal to erect a Museum, towards which substantial support has been generously promised by Mr. David Ross McCord, K.C., the well-known antiquarian of Temple Grove, whose collection of historic relics is the best and most complete in the continent."
For some reason, eleven years later, David McCord donated his entire collection elsewhere forming the McCord National Museum located in a building provided by McGill University. The museum, today, is known as the McCord Museum and is located at 690 Sherbrooke Street West.
1 Winchester
John A. Pitt (1900) – William Dow & Company.
From the Canadian Bibliography: "The son of a brewmaster, William Dow emigrated to Canada in 1818 or 1819 with substantial experience in brewing. He was employed as a foreman at Thomas Dunn's brewery, one of the few in Montreal at that time; by November 1829 Dow was a partner and was joined by his younger brother, Andrew, who had also trained as a brewer.
Known as William Dow and Company after 1834, the year of Dunn's death, the firm prospered and became one of the principal competitors in Montreal to Molson's, the largest brewery in the city. Like some of his competitors, William Dow was also engaged in distilling and in this business too he was a major local supplier.
By 1863 his plant was producing some 700,000 gallons of beer in comparison to Molson's 142,000 gallons. As his business grew, Dow took in other partners besides his brother (who died in 1853). During the early 1860s, he was joined by a group of associates, headed by Gilbert Scott, to whom he eventually sold the business for £77,877 in 1864; it kept his name."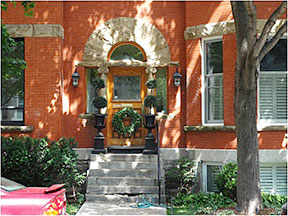 311 Elm
Thomas Binmore, Manager, Shoe Wire Grip Company (1899) – Formerly The English and Canadian Wire Fastening Company of Montreal.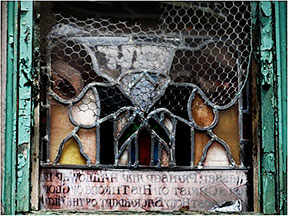 Former Anglican Church of Canada (near Greene Avenue)
One of the church's stained glass windows is now covered in security wire.
Devon Park
One of Westmount's best-kept secrets: a small "gem" located off Upper Lansdowne.
Images: Michael Walsh
Read other articles by Michael Walsh
---

Michael Walsh is a long-time Westmount resident. He is happily retired from nearly four decades in the field of higher education technology. A "professional student" by nature, his academic training and publishing include statistical methodology, mycology and animal psychology. During this period, he was also an officer in the Canadian Armed Forces. Prior to moving to Montreal, he was contracted by the Ontario Ministry of Education to evaluate bilingual primary and secondary school programs. Today, he enjoys spending time with his (huge) Saint Bernard while discovering the city's past and sharing stories of the majestic trees that grace the parks and streets. He can be contacted at michaelld2003 @hotmail.com or through his blog Westmount Overlooked
---
---