Brown's Hill
Variations on a landscape
Latest McClure Gallery exhibition unites five artists under one subject
Text and photos by Jean-François Brucel
Translated from the French
JoAnn Meade, guest curator of the McClure Gallery at the Westmount Visual Arts Centre offers us quite an interesting visual voyage until June 17: Five artists, five very different interpretations of the same hilly landscape in the Stanstead area of the Eastern Townships.
Five artists, five very different interpretations of the same hilly landscape in the Stanstead area of the Eastern Townships.
From hyperrealism to surrealism
An exhibition that is very surprising because of its diversity, and hyperrealism, as in the case of the more than six meter long piece (see detail below) of Shanghai born artist Song Nan Zhang, who immigrated to Canada after studies in Paris.
Naturally one cannot help but compare this peaceful landscape with the surprising photographic triptych of Holly King, a professor at Concordia University and represented by the Galerie Art Mûr in Montreal (see the central section below).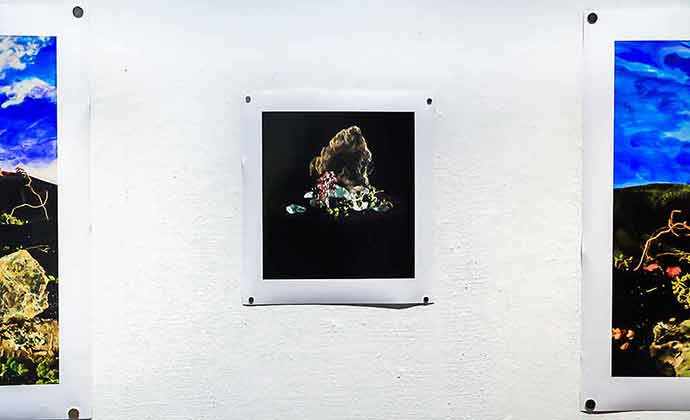 Peter Krausz, for his part, interprets much more the sky and the relief, not hesitating to use walnut stain or tempera to express his feelings. His two works, two meters long by seventy centimetres in height, are well suited to his panoramic vision of the landscape: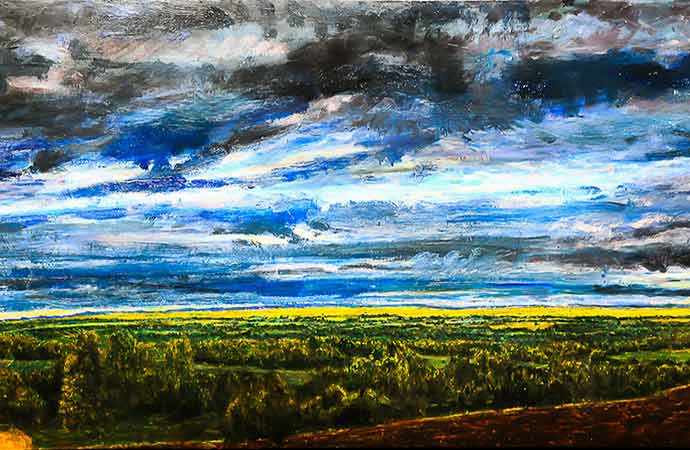 A more peaceful and soothing rurality…
As for the two other artists of the exhibition, Sara Peck Colby and Renée Duval, their visions are much more figurative, bringing us back to more peaceful rural dimensions. Thanks to five oils placed randomly on one of the walls of the gallery, Renée Duval forces our gaze to discover, in stages, the landscape of this region of the Eastern Townships without imposing on us the linearity of the work of Song Nan Zhang which is found on the neighbouring wall, thus accentuating the contrast between the two artistic paths.
Finally, with her four acrylics on canvas, Sara Peck Colby (shown in the photo below) shows a great mastery of her art and her palette of winter colours. Because her interpretations take place in winter, unlike those of the other artists, gray-blue skies sometimes tinged with a delicate touch of pink ochre suggest the end of a day spent in the countryside before returning to Montreal where the artist lives and works… Snow-white contrasts naturally with the delicately sketched trees and if there is life in these landscapes, it is with great discretion that it manifests itself.
Brown's Hill – Sara Peck Colby, Renée Duval, Holly King, Peter Krausz and Song Nan Zhang
Until Saturday, June 17
Invited commissioner: JoAnn Meade
McClure Gallery hours: Tuesday to Friday from noon to 6 pm, Saturday from noon to 5 pm
An opportunity to rediscover Stanstead and the surrounding area
If you are unable to see this visual experience at the McClure Gallery by June 17, why not discover it at the Colby-Curtis Museum in… Stanstead, of course, where it will be presented from July 7 to 30.
Photos by Jean-François Brucel
Read also Fifty years of Aislin at the McCord Museum
---

Jean-François Brucel
Jean-François is a Montreal visual artist in the fields of screen-printing, acrylic and photography. Specialized training in screen-printing and acrylic transfers enabled Jean-François to broaden his horizons in the visual arts.
---
---