The desire for truth
in Never Look Away
Donnersmarck returns to his hallmark themes of repression and humanity's need for truthfulness
By Patrick Barnard
In the minds of many people, the best film in the first decades of this century was The Lives of Others (2006) – Das Leben den Anderen – by the polymath German director, Florian Henkel von Donnersmarck. That moving work of cinema tells the pre-1989 story of a member of the East German secret police who spies on a famous playwright and listens to the most intimate details of the life that he shares with his girlfriend. Gradually the covert Stasi agent identifies with those he has under surveillance. He uncovers the repressed truth underlying a totalitarian state, and in the process becomes fully aware of the repression that he is a part of and that underlies his own life.
Donnersmarck, who today is only 45 years old, was 32 when he made The Lives of Others, his first feature. Critics were surprised that he was so young and had never lived in the German Democratic Republic, yet was able to produce a striking, disturbing portrait of the conflicted nature of the GDR.
Donnersmarck himself is a contradictory figure. He speaks five languages, including Russian, and has lived in New York, Oxford, and Germany. A cosmopolitan if there ever was one, he now takes his six-foot-nine frame and bushy hair through the art galleries of L.A. where he has just moved with his family. His many impulses are richly diverse. Political cinema does not please him, but his work carries deep political resonances. He is an international German who seems to intimately know the burden of Germanness; he is an aristocrat with much to say to an age beset by right-wing populism; and he is an aesthete with a thirst for social truth.
Never Look Away (2018) – Werk ohne Autor in German, or "Work Without an Author" – is Donnersmarck's third feature film, in which he returns to his hallmark themes of repression and humanity's need for truth. The English title comes from the character Elisabeth May, a beautiful schizophrenic woman who is institutionalized under the Nazi regime and then cruelly euthanized. Never Look Away begins in Dresden during 1937 when she takes her dearly loved nephew, Kurt Barnert, to attend the "Degenerate Art" exhibit that has come to the famously beautiful city. At the time the Nazis had seized works by the most well-known modernists – such as Kandinsky, Mondrian, and Picasso – in order to denounce their art as a sickness that must not be "passed on to future generations," as the exhibit guide in the film says with dangerously aggressive vehemence. Yet Elisabeth confesses to her very young nephew that she likes the despised modern paintings.
Why does Aunt Elisabeth take Kurt to the exhibition? After all, he is only five years old. It turns out that young, sensitive Kurt, who will be the central protagonist of the film, already knows that he wants to "paint," and has even begun sketching female nudes in his own room at home.
Never Look Away is a revelation about Richter, about art, about Germany, and about what we like to call the Western World. Whether we like it or not, the secrets in the film are ours as well.
Never Look Away is at once a cinematic bildungsroman (a growing up novel), an epic, a thriller, a treatise on art, a documentary, as well as a love story. It is a kind of icon of our times and the film bears within it an essential secret represented by the character of Aunt Elisabeth.
In 2005, the investigative journalist Jürgen Schreiber published a book called A Painter from Germany that dealt with the life of the country's most famous painter, Gerhard Richter. The investigation, based on conversations with the artist, revealed completely new information: Richter's very own schizophrenic aunt had been ordered to be euthanized by the Nazi father of Richter's first wife.
Although Richter did not like the exposure he received in the book, Donnersmarck used his considerable charm to get Richter to talk about himself all over again in a non-stop dialogue that lasted for nearly a month. It was like undergoing psychoanalysis, the painter commented, and the film-maker kept a thorough record of the conversations that would later become the scenario for Never Look Away.
Again, Richter did not like the resulting portrayal, this time in a film. Why? Because, Never Look Away is a revelation about Richter, about art, about Germany, and about what we like to call the Western World. Whether we like it or not, the secrets in the film are ours as well.
Beautiful, vulnerable Aunt Elisabeth tells Kurt two things that shape his life: "Never look away," and "Everything that is true is beautiful." But soon horrors descend on the family. How can the truly terrible be in any way beautiful? Although the word "tragedy" never appears in the dialogue, the film shows us a classical truth: that indeed horrific crime, pity, and terror are part of our lives.
Shortly after the "Degenerative Art" exhibit, Elisabeth unwillingly is compelled to offer a floral bouquet to Adolf Hitler when he goes through the streets of Dresden. She goes home, strips naked, plays music at the family piano, then begins banging a heavy ash tray against her head. Standing in a doorway, Kurt sees her naked, and the fate of this nude, female body is a central fact and metaphor in his life.
World War II soon begins, and Aunt Elisabeth is first institutionalized and then falls into the clutches of a Nazi gynecologist, Professor Carl Seeband. He hates her insight and authenticity, so he coldly signs a form for her euthanization in a gas chamber. We the audience see the action unfold, but it remains hidden to the other characters in the film. More suffering follows – Kurt's uncles die in the Russian campaign, and then he sees first-hand the aerial fire-bombing of Dresden by the British and the Americans.
Kurt never looks away, survives the war to live in the GDR, and goes to art school where the reigning doctrine of socialist realism is eerily similar to Nazi aesthetics. In this period, he meets a young woman named Elisabeth Seeband, although she prefers to be called "Ellie." Yes, she is the daughter of Carl Seeband, the doctor and murderer.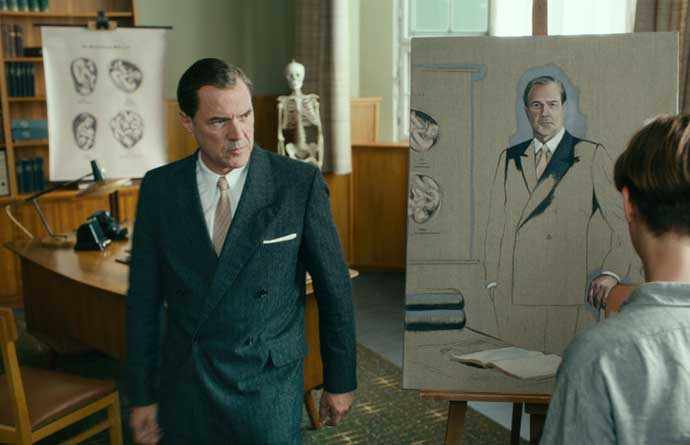 Ellie is a woman of compelling natural beauty, played by the luminous actress, Paula Beer. No one – except for us – knows the full details of Carl Seeband's terrible history in the S.S. In fact he has become a highly respected public figure in the socialist republic. Kurt and Ellie are deeply in love. But Prof. Seeband despises the young painter and feels him to be inferior, so he makes up a gynecological fiction that allows him to give his own daughter an abortion, because he does not want Kurt's genes and Ellie's to be "genetic material together (zusammen)." Now this uber-Father has killed both Kurt's aunt, Kurt's child, and his own grandchild. Again, we the audience are complicit, because only we possess this knowledge.
'The women in this film are the prophetic characters, and the oppositional, ironic, contradictory essence of reality and art is the over-arching idea in Never Look Away.'
At this point, Ellie tells Kurt something that is a key to the whole film, in order to explain why she is different from what she seems to be: "What people say is reality, is probably the opposite." The women in this film are the prophetic characters, and the oppositional, ironic, contradictory essence of reality and art is the over-arching idea in Never Look Away.
Eventually, Carl Seeband, Mrs. Seeband, Kurt and Ellie all end up in West Germany in the 1960s. When the young man goes to art school in Dusseldorf, he has great difficulty making his way through the plethora of styles popular during that time (and Donnersmarck has a lot of fun satirizing the pursuit of aesthetic styles in the sixties.)
In time, Kurt has an epiphany and – like Gerhard Richter – begins using family photos to create black and white canvases, usually covered over by a light film of superimposed paint. He says at this time, "I want the truth," and one of his most powerful paintings is of his Aunt Elisabeth and himself as a child. Then his impulses lead him to make a composite picture, a superimposition of three images: Prof. Seeband, Aunt Elisabeth, and young Kurt. Without fully knowing it, he has captured the deep, real connection between artist, aunt, and father-in-law. When Carl Seeband sees the painting he is deeply disturbed and must run away from the artist's studio.
Kurt and Ellie have loved each other all the way through their difficulties. And surprisingly they are able to have a child together. The film ends with a successful art exhibit of Kurt Barnert's paintings where art critics ask him questions. He insists that he has nothing to do with what he paints; that they are what one critic calls "work without an author."
But we, the audience, follow the oppositional logic of the film. We know, we have seen that Kurt's work is deeply, deeply autobiographical, beyond what even he is conscious of.
One of aunt Elisabeth's ideas was that literally everything is connected. Never Look Away shows us this truth – that Father and Murderer, Nazis and Allies, Art and Illusion, the West and the East are all deeply connected, and only insight of this kind can lead to survival, love, and rebirth.
The film was nominated for Cinema for Peace Most Valuable Film of the Year and an Oscar nominee for best foreign-language film 2019. Now playing at the Cineplex.
Never Look Away (Werk ohne Autor)
Germany, 2018
188 minutes
Written and directed by Florian Henckel von Donnersmarck
Music by Max Richter
Cinematography by Caleb Deschanel
Edited by Patricia Rommel
Production company: CJ Entertainment
Cast
Tom Schilling as Kurt Barnert
Sebastian Koch as Professor Carl Seeband
Paula Beer as Ellie Seeband
Saskia Rosendahl as Elisabeth May
Images: courtesy of CJ Entertainment
Read other articles by Patrick Barnard
---
Patrick Barnard is a board member of the Green Coalition, a non-partisan environmental group in Montreal. He is also the editor of the video blog The Pimento report/Le Piment and a free-lance journalist. He has worked in the past for CBC Radio, Radio Netherlands, and Dawson College where he taught English Literature. He is also one of 20 environmentalists and transit experts who signed an open letter in Montreal asking an end to the REM.
---
---