The Breakfast Club
for a new generation
P B & J revisits the 80s classic film on bullying, stereotypes and identity
By Patricia Dumais
The year 2015 marked the 30th anniversary of the release of the critically acclaimed film The Breakfast Club. It told the story of teenagers from different high school cliques who spend a Saturday in detention with their strict and grumpy assistant principal. The film was a hit and was even selected for preservation in the United States National Film Registry by the Library of Congress as being "culturally, historically, or aesthetically significant".
A few years later, theatre director Anne-Marie St-Louis was giving a theatre class based on the film at the McGill Conservatory summer camp. "The 13 to 17 year-olds loved the story – it really reached them. That got me thinking about bringing it to the stage."
The result is P B & J, a bilingual "adaptation of The Breakfast Club for a new generation". Written by poet/playwright Éléonore Brieuc and directed by Anne-Marie St-Louis, the play revisits the story by making the characters more relevant to today's youth. "We turned the 'nerd' in the original film into an activist, the 'princess' into a social media queen, the 'jock' into a debater and the 'rebel' into an androgynous-style woman. Whereas in the movie, the characters are very compartmentalized, we wanted the new characters to go beyond the borders of their stereotypes, sometimes impersonating each other, leading them to see each other for who they really are", explains Anne-Marie St-Louis.
P B & J was very well received when it premiered in March at the Centaur Theatre as part of its Children Series. It will next be presented as part of the St-Ambroise Montreal Fringe Festival from June 6 to June 15.
This new show at the Centaur Theatre in March is a compelling story with an important message for teens: never be ashamed of who you are.
– Montreal Families for P B & J at the TD Saturday Morning Children's Series, Centaur Theatre
Brieuc and St-Louis' friendship and collaboration go back a while. Recounts Anne-Marie St-Louis, "We met in 2010 when we both participated in Wajdi Mouawad's Avoir 20 ans 2015, a 5-year theatrical project in which fifty 15-year-olds from around the world were brought together to participate. We had the opportunity to travel and visit some remarkable places, such as Athens, Senegal and Auschwitz – it was a very bonding experience for us all. Most of the participants continued on in various artistic fields."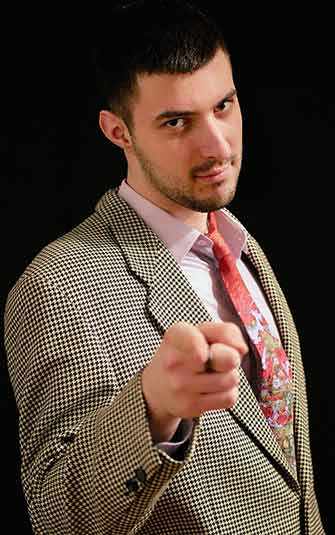 Anne-Marie St-Louis grew up on Grey Avenue, on the NDG-Westmount border, where she enjoyed both communities. She attended Collège international Marie-de-France where she participated in over twenty theatrical productions. Says Anne-Marie, "I was fortunate to attend an arts-oriented school that helped fire my passion for theatre. It is there that I met my mentor and future associate Julien Blais."
In 2017, Anne-Marie St-Louis went on to complete the Theatre and Development program at Concordia University, a unique program in Canada that trained her in cultural mediation and community-based theatre work. This led to collaborations with various cultural organisations such as the YMCA, St-Columba House, Oxy-Jeunes, Fusion Jeunesse, Share the Warmth and the Atwater Library.
"The Atwater Library secured a government grant which allowed us to produce two plays in the forum theatre style which involves spectator engagement and influence", explains Anne-Marie St-Louis. "With the passing of Bill 151 – an act to prevent and fight sexual violence in higher education institutions – we thought it timely to produce Disclosure Dilemma, a play about issues in disclosing sexual assault, and Man Down, about "toxic masculinity" and rape culture. The plays were presented in ten different CEGEPs including the ENA (École Nationale d'Aérotechnique), where 90% of the students are male."
In 2015, Anne-Marie's mentor Julien Blais founded CréActifs theatre company with the goal of creating inclusive and immersive community productions and invited Anne-Marie to join him in the venture as co-artistic director. CréActifs would go on to produce a number of original youth theatre productions including the feminist themed Éclose (2017), based on tree plays: Ibsen's A Doll House, Jean-Paul Sartre's No Exit and Denise Boucher's Les fées ont soif.
'Excellent show! Our kids really enjoyed it!'
– McGill Public Health Department Representative
The company also took part in the cultural mediation project Racines (2019), produced by Théâtre Espace Libre, and involving the immigrant community of the Centre-Sud in sharing stories, traditions and memories on stage.
CréActifs' current production, P B & J, fulfils all of the company's criteria: A community-minded original production bringing non-professional young actors into a professional context, which will hopefully lead to professional work. "The Fringe Festival is the perfect venue for this production as it will allow our actors to make many contacts", says Anne-Marie St-Louis.
She ads, "This play, like the movie, is enjoyable for all ages. The fact that it is bilingual makes it even more accessible. We invite the public to discover our amazing young creative talent!"
P B & J performances
Thursday, June 6 at 6 pm
Saturday, June 8 at 2:45 pm
Monday, June 10 at 7:30 pm
Wednesday, June 12 at 11 pm
Friday, June 14 at 4:30 pm
Saturday, June 15 at 21:15 pm
Mainline Theatre
3997 St Laurent
514 991-2699
Tickets: 12$ / 9$
creactifs.net
montrealfringe.ca
Images: courtesy of CréActifs
Read also: other articles by Patricia Dumais
---

Patricia Dumais is co-editor of WestmountMag.ca and a nature enthusiast. Having grown up near a wetland that was lost to urban development, she recognizes the importance and benefits of conserving urban green space. pdumais@westmountmag.ca
---
---