Remembering the
joie de vivre of Expo 67
Readers share their Montreal World's Fair anecdotes
Introduction by Patricia Dumais
Back in 1967, I was eleven years old and I really looked forward to Expo 67. There was so much excitement in the air! Living then in South Shore Longueuil, I could witness the progress of the building of the site every time we crossed the Jacques Cartier bridge, which was at least twice a week, as I would accompany my dad when we would drive to pick up my mom from work in Westmount.
Our end-of-year fifth-grade school art project was to build a miniature replica of one of Expo's pavilions. One of my classmates chose the Cuban pavilion, not very challenging, as it was a cube. Proud Canadian me decided to create a mock-up of our pavilion, the famous inverted pyramid. This I painstakingly did using wooden stir-sticks and the result seemed to please the teacher who gave me a good grade.
Earlier in the year my parents announced that we would be hosting many guests during Expo. In fact, there was a serious lack of accommodation for all the Expo visitors and Greater Montrealers were encouraged to rent out rooms in their homes, which many did.
Of all the guests, my favourites were my Uncle Phil and Aunt Margaret from Queens, New York. Two years earlier in 1965, our family visited the New York World's Fair and stayed with them. They spoiled my sister and I rotten, with lots of candy and ice cream. We though New York was the greatest place on earth. So did Uncle Phil who proclaimed, "There would never be another fair as great as the New York World's Fair". Boy was he in for a surprise…
Here for your reading pleasure is a collection of anecdotes from our readers. If one conclusion could be drawn, Expo 67 was many things to many people.
---
I remember Expo 67 and I didn't even go!
I remember Expo 67, although I didn't attend it. I was 17 years old living in the UK, which in the 1960s was the 'in' place to be. Music and fashion-wise it led the world: The Beatles, the Stones, Marianne Faithful; designers: Mary Quant, Ossie Clark; retailers: Biba, Carnaby Street, Chelsea Girl. London was 'the' fashion Mecca and the mini dress was our standard. My body type was all the rage: Tall and thin, long, long legs and long straight hair. Commenting on the length of my skirts, a friend's mother said: "Wanda doesn't wear skirts she wears 'pelmets' (valances)". They were all of 10 inches long.
So, what's the connection between me and Expo? I remember pouring over the Sunday magazine newspaper supplements and Expo coverage was wild. The British pavilion hostesses were splashed front and centre. Montrealers marvelled at the length of the Mary Quant mini-dresses and I was hooked. Four years later I set sail for Montreal on the Empress of Canada. My new life had begun and I owed it all to Expo.
Wanda Potrykus
Westmount
Expo 67 + Me = Camelot
Maybe the greatest year in the history of Montreal. The Monorail, clean subway cars, the new Decarie expressway, properly paved streets and an atmosphere of joy were part of the many highlights that summer. I was not living here then, but undaunted by distance my family spent every summer weekend at Expo driving six hours to do so.
I still have my little Red Passport, stamped by every Pavilion. I rode through the geodesic dome with glee and rode the Flume at La Ronde to cool off.
Of all my memories the three best are: The Temptations at Canada Place, floating through the US Pavilion, and most significantly, having my photo taken with a very large, albeit overly calm, lion.
My only regret, that almost every Pavilion and the Monorail were demolished instead of continuing to be part of "our town" forever.
Linda Hammerschmid
Westmount
Expo 67 opened up the world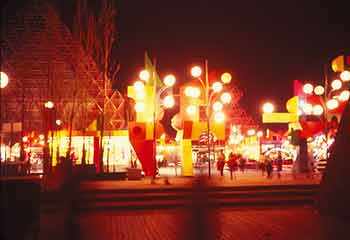 Coming from Kingston Ontario to visit Expo was a big deal. My father added to the thrill by having us park our car in the old Port and take advantage of the option to arrive by helicopter! An aerial view of Expo 67 was a rare sight! Expo was where I saw kangaroos for the first time. I was introduced to the touchtone telephone. Amusement parks up until the arrival of La Ronde were limited to country fairs and short run visits to the 'Ex'. Expo 67 opened up the world and I never looked back. Curious that after all these years I'd now be living here having come full circle!
Virginia Elliott
Westmount
Memories of a British Hostess
Memories galore: recruitment in London; sailing across the Atlantic to New York on the Queen Mary; living on Decarie; first wearing the miniskirt with snow on the ground; the rented house on Lake Rawdon shared by the other British hosts and hostesses; the fun and surprise visitors every working day; speaking to the Montreal taxi drivers only in French if you wanted to get to your destination; the endless parties; De Gaulle's speech in Quebec; Habitat; starting queues going nowhere; freedom and optimism; and yes, mixing with other cultures and developing an open and tolerant mindset which has lasted 50 years!
Thank you Montreal and Expo 67
Sue Wake
South Pelion, Greece

Expo 67 all summer long
We were very young and very poor in those days. The company I worked for financed our passports and we went to the Expo site almost every weekend. We loved the novelty of the food kiosks and tried Tunisian food, German sausage and beer among others. We also picnicked at Île Ste-Hélène.
We went to many pavilions and thoroughly enjoyed the summer despite having my pocket picked!
I remember feeling very proud of being a Montrealer and we chatted with people from many provinces and countries while in line-ups. Some kept in touch with us for years afterwards.
It was a wonderful experience.
Pat and Doug Pang
Expo 67 a changé nos perspectives d'avenir
Oui en effet, que de merveilleux souvenirs.
Ayant fait partie de l'équipe d'une dizaine de personnes qui ont monté les vitrines de présentation des divers pavillons, nous avions l'effet que nous étions sur une autre planète.
Que nous vivions des moments historiques, nous travaillons la nuit lumières et étoiles… nous avions entre 17 et 21 ans, frais sortis de l'Institut des Arts Appliqués. Le Bonheur!
Merci à Expo 67 de nous avoir changé toutes perspectives d'avenir.
Michèle Bélair Pagnetti
Westmount
Visiting expo with sis
The eyes of the world were on Montréal with people visiting from around the globe, including my sister from England. I bought her a one-week pass and she went every single day, rain or shine. And it rained most afternoons. By the end of the week, she had a stamp from every pavilion she visited – except France (don't ask!). She had brought my father's slippers to walk in and she'd come to pick me up from work every evening. I stayed at my desk until I heard the elevator door opening – and her unmistakable squelching footsteps!
Margaret Jackson
Westmount
The best place to be
I moved to Montreal from points West in January 1967 and enjoyed attending Expo that summer… what halcyon days, what a wonderful year!
I was then a much younger person (chronologically, that is) so my memories of the major sights and sounds are now amalgamated together. Funny how minor impressions, however, stick in the mind.
One was seeing Pygmalion in French at the Théâtre du Nouveau Monde, set up on or near the Expo grounds, starring Quebec stars Jean-Louis Roux as Professor Higgins and Monique Miller as Eliza the flower girl.
I marvelled at how well his Parisian accent and her Quebec joual worked so well in French to match Shaw's comparison of upper class English speech with her broad cockney.
Another was noting that while most other national pavilions bragged that they were tops in this or that, the UK pavilion, with typical understatement, boasted that Britain was 15th in the world in cucumber production!
I enjoyed riding the monorail as it weaved throughout the grounds, especially in and out of the giant US geodesic dome with its polyhedron design by one of my personal heroes, Buckminster Fuller. Still there, repurposed for environmental exhibits, having survived a 1976 fire to its 'skin' in later years.
Thanks to WestmountMag.ca for organizing this space upon the 50th anniversary to complement the exhibit of Expo paraphernalia in the Cinemathèque Québéquoise lobby in 2014 and the 2013 Atwater Library noon book launch about Expo by John Lownsbrough, attended by many locals whose careers began there, as well as the late Corrine Sevigny, in many ways the inspiration behind Expo 67, headed by her husband, then Federal minister of lands Pierre Sevigny.
The title of Lownsbrough's book is The Best Place To Be and indeed it truly was!
Byron Toben
Montreal
Expo 67 changed my life!
OK, WestmountMag.ca, here's my most amazing memory of the fair; of the dozens of days (like I lived there!) there I saw 12 different films in a white pavilion called Sermons from Science, funded by several different Montreal churches. When I first went there, I thought it was only about science. Yes, they did have the word sermons in the title but I guess I missed that. I was a devout atheist at the time, and was certainly not looking to be preached at!
But one by one, the different films presented proofs of God's existence from different areas of science, till eventually I was convinced the facts just add up and with the help of their very patient staff, I decided to commit my life to Christ. Fifty years later, I have no regrets, and give thanks to God for the dedicated people who gave generously of their time and effort to make that pavilion a reality. The Director of the pavilion was Kieth Price and his wonderful staff, Marty Wolf, Heinz Archipow, Jim Yorgy, Jim Reynolds, Margaret Blue, and many more too numerous to number.
Man and His World – Expo 67 changed my life and in a real way gave me a new life!
Barrie Brown
Expo images: Laurent Bélanger
---
---