100 and one activities
just South of Montreal
Le Circuit du Paysan has something for everyone's taste
By Patricia Dumais
August 12, 2018
With summer well under way you may be in search of something to do while on holiday or over a weekend. Here's a suggestion that is close to Montreal, family-friendly, and can be adapted in myriad ways to your taste and budget.
Located in the foothills of the Adirondacks, in the Vallée-du-Haut-Saint-Laurent, just south of Montreal, the Circuit du Paysan offers hours and kilometres of fun and relaxation, either alone, as a couple, or with your family.
Created 20 years ago by the Centre Local de Développement des Jardins-de-Napierville with the mission of promoting the local agricultural products, it is Quebec's first signed tourist circuit and now counts more than 100 members who fall under the following categories: agro-tourism; antique shops, craftspeople and artists; camping; cheese factories; cultural attractions; farm animals and zoos; farm meat markets; farmers' stands; gourmet boutiques; local wine, spirits and beer; lodging; outdoor activities; relaxation centres and health; and restaurants.
Made in Quebec quality and authenticity
The Circuit du Paysan takes you on a 194 km journey through some of Quebec's most beautiful country landscapes where you will discover unique products. It is recognized as one of the best gourmet circuits in the province. The main highlights are the U-pick berries and apples, the wineries, cider mills, dairies and meat products, the honey and mead, the farm animals and lavender cultivation.
Members proudly display the Circuit du Paysan logo at the entrance to their site. The employees and owners of each business are dedicated to ensuring the quality of their welcome and will go out of their way to create a satisfying and unforgettable tourist experience.
A brand new interactive map on the Circuit du Paysan web site allows you to choose from the many themed circuits of varying lengths, such as the Alcohol and Cheese circuit, the U-Pick circuit and the Historical and Artisan circuit, among others.
Some suggestions to make the most of the Circuit du Paysan
CUSTOM FAMILY FUN

Treat the family to a weekend on the Circuit! Look up the interactive map, check out all the activities, pick the most appealing ones, then chart your route!
As an example, the weekend can start with a visit to Exporail Canadian Railway Museum in Saint-Constant, followed by a picnic lunch (with produce from Marché des Jardiniers in Laprairie) at the Récré-O-Parc in Sainte-Catherine where the family can spend an afternoon enjoying various activities: swimming at the beach, kayaking on the St. Lawrence, cycling or bird watching.
Then head over to the Manoir d'Youville on Île Saint-Bernard. Walk around the historic property with its 17th century windmill and take in marvellous views of Lake Saint-Louis. Stop by Bistro La Traite for refreshments where you will discover a vast choice of Quebec microbrewery products. In the evening, enjoy a gastronomic meal in the Manoir's dining room and take in a show at the Pavillion de l'Île, followed by a good night's sleep at the Manoir.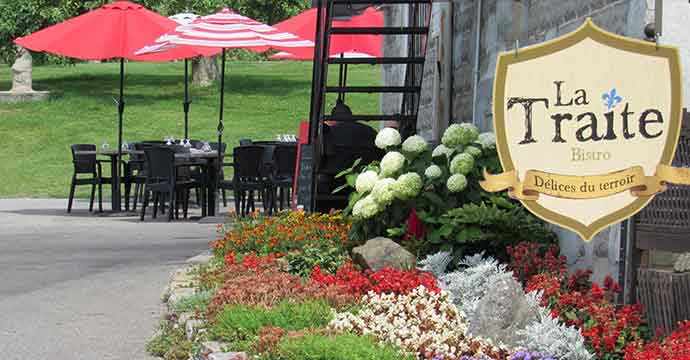 Next day, after a delicious buffet breakfast, explore the 223-hectare Marguerite Youville nature reserve with its 8 km of walking trails. Pick up an audio guide or participate in a virtual rally that enables the whole family to learn about the exceptional flora and fauna on the island. These are available at the Pavillion de l'Île where you can also stock up on lunch, snacks and local produce. In season you can even pick apples in the organic apple orchard.
Before heading back to Montreal, you can make a short gastronomic detour and stop by Hydromellerie Miel Nature for honey and mead, Fromagerie Ruban Bleu for goat cheese and other local delights and Domaine Labranche for cider and wine. Top off your tour with a cool one at Brasserie Distillerie Champ Libre, where co-owner Alexandre Provost will be happy to show you his brewing and distilling setup.
A CYCLING PARADISE

The Circuit du Paysan website offers a variety of cycling routes that allow you to explore the region and its attractions on bike. Having cycled the area for many years, I can attest that it is one of the best places to cycle in Quebec: the roads are quiet, well maintained, flat or hilly, suitable for all levels of cyclists, from the Sunday rider to the sport cyclist.
Covey Hill is a popular spot for cyclists and nearby are a number of Circuit du Paysan members that merit a stop over. One is Le Lavandou in Franklin, Quebec's first lavender farm. Take a break from your ride and picnic in their lovely garden while feasting your eyes and taking in the invigorating scent of the magnificent lavender plantation. Visit the art gallery in the converted cow barn and take home unique lavender products.
The area boasts many vineyards where you can pick up fine wines and spirits to accompany your gastronomic purchases. Among those, the Cidrerie du Minot, now in its 30th year and a Circuit du Paysan member from the start!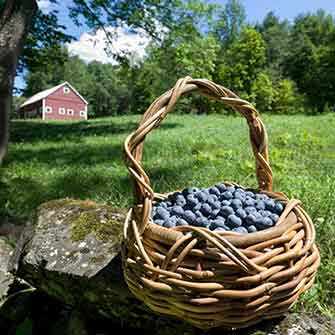 And with apple season soon in full swing, let's not forget the many orchards where you can pick (or pick up) a wide variety of apples. Other fruits and vegetables that can be picked according to season include blueberries, cherries, camerise, strawberries, raspberries, various vegetables, pears, plums, squash (including pumpkins) and grapes.
Last but not least, you may wish to visit Boutique Bon Boeuf on your way home. This family-run cattle farm in Saint-Chrysostome produces top quality grass-raised beef. The animals are raised with utmost care, without growth hormones, in an idyllic setting. Watch owner Chantal Agnew below tell her story (in French):
The Circuit du Paysan season runs from June 24 to Thanksgiving, with the majority of businesses open a minimum of three days a week, including weekends. It is recommended that visitors confirm the schedule prior to arrival as some businesses are closed on Sunday or early in the week. As well, certain businesses are seasonal – their open season is limited to the duration of the product or service they offer.
In the off-season, visitors are encouraged to call prior to arrival. Several businesses are open all year; check their schedules on the Circuit du Paysan website.
The Circuit du Paysan is easily accessible from exit 21 on Highway 15 South in Napierville.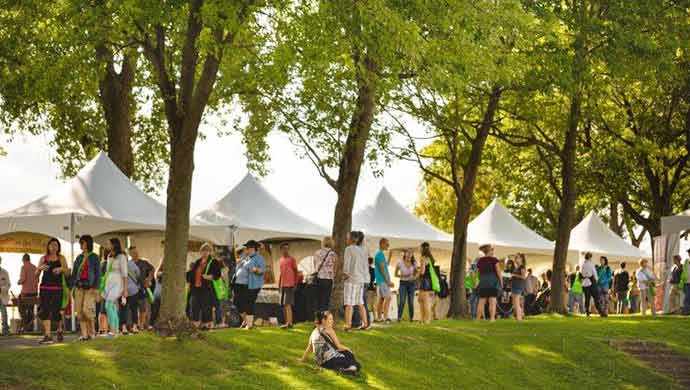 Save these dates!
Saturday, August 25 and Sunday, August 26
10 am to 5 pm
Écomarché de l'île outdoor market
Île St-Bernard, Chateauguay
Two days of outdoor festivities
80 exhibitors – over 12,000 visitors
Local artisans and producers
Animation, music and much more
Free access for all!
Sunday, September 30
Circuit du Paysan Open House Day
Participating farms will greet you with guided tours and /or free tastings.
Surprises at each stop!
More details upcoming on lecircuitdupaysan.com and their Facebook page
Images: courtesy Circuit du Paysan (unless indicated otherwise)
Read also: Discover four island nature oases near Montreal
---

Patricia Dumais is co-editor of WestmountMag.ca and a nature enthusiast. Having grown up near a wetland that was lost to urban development, she recognizes the importance and benefits of conserving urban green space. pdumais@westmountmag.ca

---
---