Four birdy delights
from Dramatis Personae
The Westmount amateur theatre group presents Fowl Plays
By Byron Toben
Dramatis Personae, Westmount's community theatre, have been churning out some delightful shows since 1985, when founded by Ann Page.
The pace for these enthusiastic but amateur actors has been picked up during the last several years with the employ of directing professionals… first Jacqueline Van de Geer and now Christopher Moore.
The recent Fall Production, as usual, is a series of short plays bound together by a common theme. I will refrain from punning that this one is for the birds. Whoops. I just did so! The four playlets here staged involve a penguin, some turkeys, Canada geese and a collection of rare exotics.
In all of these, the actors' bird-like movements and occasional uttered sounds, whether studied or "winged", lend both humour and creditability.
In Off the Map by Rich Orloff, a couple, Scott (Phillip Dumouchel) and Jean (Jenny Chopra), get lost while hiking until informed by a giant penguin (Clive Brewer) that they are in Antarctica! Differences between penguins and humans as to sexual frequencies, regurgitating food and such liven the text.
In Three Turkeys Waiting for Corn Cobs by Don Nigro, two male turkeys, George Carpuzas and Malcolm McRae, extol the virtues of gobbling corn cobs while what the female turkey Ann Elbourne really wants is to play the saxophone! Not having lips is no barrier to this intrepid fowl!
The above six actors are joined by four others in this ten person cast in Branta Canadensis by Ellen Peterson. They all become a V shaped crew of Canada Geese heading south for the winter. Well coordinated as the flock veers to right or left depending on winds. Tragedy, when the senior lead goose is downed by a hunter, the youngest takes up the lead but discombobulated, turns all North again!
This reminded me of Wrong Way Riegel who, in the 1929 Rose Bowl, recovered an opposition fumble and ran it in for a touchdown, but the wrong way!
In The Cagebirds by David Campton, a collection of exotic birds is kept in cages by owner/collector Mistress (Mr. Brewer again in hilarious drag). They all have funny names such as The Medicated Gloom (Ann Gamsa), The Regular Thump (Marion Campellone) and The Constant Twitting (Ellen Rubin).
In all of these, the actors' bird-like movements and occasional uttered sounds, whether studied or "winged", lend both humour and creditability.
Drama ensues when the Mistress adds a new bird, the Wild One (Karen Sauder) to the collection. But that free spirit is not adaptable to limited surroundings and actually finds a way to open the gate and allow all to escape. But shades of Stockholm syndrome, they have become accustomed to their limited environment and refuse to leave, turning on the Wild One.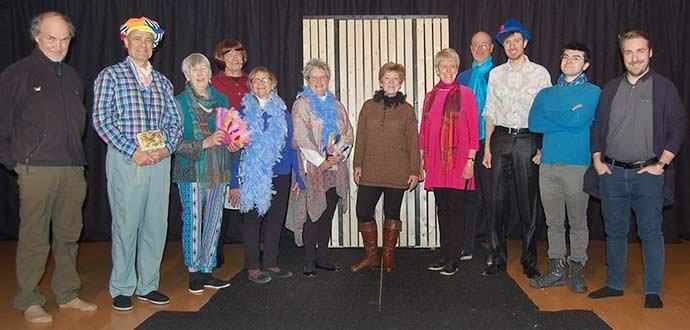 So would I, t'were I a bird. There are a lot of owls, hawks and falcons out there in the free frontier!
Like the Montreal Lyric Singers, Dramatis Personae is funded by its members and audience donations. Roger Jochym adds his sound and lighting skills to the group.
Fowl Plays ends December 17 at Victoria Hall.
For archives or info on the spring production, visit theatrewestmount.com
Images: courtesy of Dramatis Personae
Read more articles from Byron Toben

---
Byron Toben, a past president of The Montreal Press Club, has been WestmountMag.ca's theatre reviewer since July 2015. Previously, he wrote for since terminated web sites Rover Arts and Charlebois Post, print weekly The Downtowner and print monthly The Senior Times. He also is an expert consultant on U.S. work permits for Canadians.


---
---