Imagine this… a fun break
from the Holiday rush
Six short offbeat plays acted by Westmount's Dramatis Personae
By Byron Toben
Westmount's community theatre, with the very play script name of Dramatis Personae, has been bringing pleasant low-cost dramas to the city, and greater Montreal as well, since its original creation in 1985 by Ann Page. For its history and present set up, visit Dramatis Personae's website theatrewestmount.com
It recently presented a collection of six short plays by different authors, under the umbrella title of Imagine This…
The six were innovatively directed, as usual, by Christopher Moore.
Westmount's community theatre… Dramatis Personae, has been bringing pleasant low-cost dramas to the city, and greater Montreal as well, since its original creation in 1985 by Ann Page.
The show led off with Arabian Nights by hot current playwright David Ives. In this, Flora (Ellen Rubin) manages a shop in some unnamed Arabic-speaking country. A tourist (Malcolm McRae) blunders into it.
As Flora does not speak English, an interpreter (Greg James) translates between the two. Many of the translations are greatly exaggerated or plain wrong, which provides the humour in the show.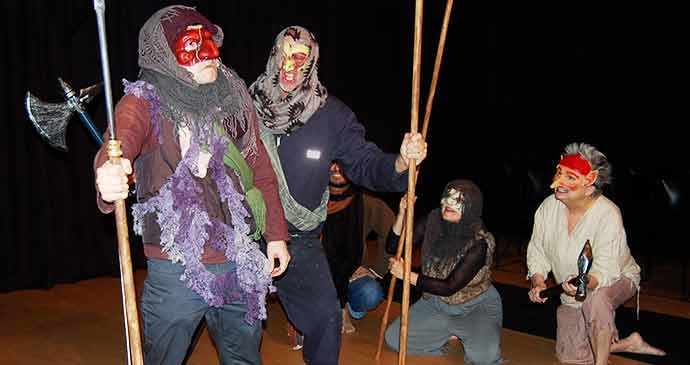 Miss You is staged as a four-corner cell phone conversation wherein lonely Woman 1 (Ann Gamsa), whose husband, Man 1 (Rashed Chowdhury) is out of town on business, implores Man 2 (Clive Brewer) to visit her tonight. He is reluctant and tries to beg off, but when his call in interrupted by furious girlfriend Woman 2 (Karen Sauder), who unleashes a string of invectives not heard since, well, Shakespeare, for his unfaithfulness, he relents and agrees to meet Woman 1.
Seems all is resolved but Man 1 calls that he is coming home early from his trip. Lots of audience friendly farce.
In Night Terrors, Playwright 1 (Ann Elbourne) and Playwright 2 (Jenny Chopra), both clad in white jammies, express anxieties to each other and to an intruding dentist (Ann Gamsa). This one is a little confusing, but possibly the night dream of one person split into two (or three?) personalities while trying to write a play.
She with a capital ESS features a man (Philip Dumouchel) drowning his sorrows in drink, asking why in heaven his girlfriend broke up with him, when a voice answers. That off stage voice turns out to be God and God is a woman! (This reminded me of the old Bob Newhart sketch where the same was discovered by an astronaut.) She promises not to be judgemental, but to help him, agrees with the ex girlfriend that he was too domineering. God finally appears on stage at the climax and is a robed Ellen Rubin.
In How to Survive in Corporate America – A Manual in Eight Steps, a Narrator (Jenny Chopra) describes each step to You (Karen Sauder), an administrative assistant having to deal with three office types, all played by Clive Brewer. As Mr. Sessle, the head boss, he is wildly funny in being pre-occupied with trivial things while leaving the daily business to overburdened subordinates.
Finally, in The Goblin Plot to Murder God, the whole gang has fun as varied assorted Goblins, masked and limping, armed with scythes and swords, as leader Ooze (Phillip Dumouchel) rabble rouses them to slay God. Gradually, the crowd disburses and Ooze is left alone save for the teller on a ladder (Ann Elbourne).
I kept remembering Woody Allen's short story wherein his private eye alter ego asks the Pope what he thinks of Nietzsche's announcement that "God is dead" to which His Holiness replies "Nietzsche is dead".
Imagine That…
Imagine This… at Victoria Hall until December 17.
Watch for Dramatis Personae's full-length play in June 2019.
514 484-2016
theatrewestmount.com
Images: Michel Degré 
Read also: Now for some completely different Xmas tales…
More articles from Byron HERE

---
Byron Toben, a past president of The Montreal Press Club, has been WestmountMag.ca's theatre reviewer since July 2015. Previously, he wrote for since terminated web sites Rover Arts and Charlebois Post, print weekly The Downtowner and print monthly The Senior Times. He also is an expert consultant on U.S. work permits for Canadians.
---
---