Play brings Alzheimer's
down to earth
D² Productions presents a fine ensemble in The Gravitational Pull of Bernice Trimble
By Byron Toben
When I reviewed the wonderful play You Will Remember Me by Quebecer Francois Archambault at the Centaur some 13 months ago, I commented about the recent burst of plays dealing with dementia.
Now comes Albertan Beth Graham, a prize-winning playwright with her The Gravitational Pull of Bernice Trimble.
Presented by the small but mighty d² Productions, which has a history of well-written plays and fine local actors in an all too short run, it did not disappoint.
The four characters portray a family of a mother, her two daughters, and a son. The mother, Bernice (veteran stage, film and TV actor Susan Bain) only 59, is experiencing increased forgetfulness. One daughter, Iris (Helena Levitt, a d² regular) is deeply emotional but keeps feelings repressed. The other daughter, Sarah (Leigh Ann Taylor, like the others, with film and TV credits as well as stage) is more expressive and has a daughter herself, given a boy's name, Kevin.
The sisters, though friendly, still bear shreds of sibling rivalry, which reappear in moments of crisis. The brother, Peter (Max Mehran, who has studied theatre in Europe and New York) is quiet, calm and rational as befits his career as a statistician.
The narrative of the play is anchored in Iris, who speaks directly to the audience as scenes alternate between her kitchen and Bernice's kitchen. Their father died a year ago, so decisions are in the siblings' hands. Or does Bernice, despite some moments, have some say in what to do and even a secret plan?
Gravity also plays a role, in keeping memories from escaping into black holes. Since the Grandmother also died with dementia, there is the underlying knowledge that at least one of them may also succumb in later life.
Presented by the small but mighty d² Productions, which has a history of well-written plays and fine local actors in an all too short run, it did not disappoint.
Peter's quiet role prides good contrast to the sisters, who get great moments to really emote and argue. Actors love those meaty roles. (I still remember Ms. Levitt's powerful portrayal of arch feminist Andrea Dworkin in Aftermath a few years ago.)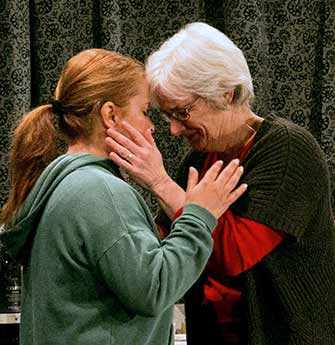 Congrats too to director Dale Hayes, who not only kept things well paced, but selected seven short musical snippets at appropriate times. Two were by musician Jann Arden, whose own mother is in the grip of Alzheimer's.
The printed program also contains various notices and contacts for memory loss groups. It inspired me to research other types of dementia. While Alzheimer's is by far the most frequent and publicised, other culprits include Vascular Dementia, Parkinson's related, Lewy bodies, Pick's disease and Creutzfeldt-Jakob disease.
Readers may remember Julianne Moore's 2015 Oscar for her role in Still Alice.
If a film is ever made of The Gravitational Pull of Bernice Trimble, the producers should consider grabbing this fine ensemble, all memorized and ready to go.
The Gravitational Pull Of Bernice Trimble ran at the Mainline Theatre April 18 to 29.
D² Productions' next show is in the fall of 2018.
Visit D2productionsmtl.com
Images: James Douglas

Read also: The Medium/Riders to the Sea, an indie theatre first
---
Byron Toben is the immediate past-president of the Montreal Press Club.
---
---